Laura Flair
23rd November 2020
Contradictory to what most people believe, a logo is not a complex composition of art or a combination of colors and fancy lines that can be created by just anyone anywhere. However, a logo design is rather a purpose-driven process that requires creative thinking and a lot of skills. It is a brand's identity symbol which at times is more identifiable and well know than the brand's name. This is precisely why a brand needs to put all their efforts and money to get a successful and timeless logo design. Therefore, brands hire custom logo design companies as their professional masters in the process of creating a logo design that includes their artistic imaginations, creative thinking, and systematic planning.
In this era where customers have fleeting and short attention spans, it has become difficult for the brand to build meaningful relationships between companies and their customers. Thus, a timeless logo design created by a custom logo design company has always been a pivotal opportunity for brands to attract new customers and create a solid place in the marketplace.
A good and timeless logo can be of any shape or size, can be a Logotype (text-based logo) or it can be a Logomark (Icon-based logo, with possible text). What it must-have, though, is a unique style and presentation that fits the company's image and makes the brand stand out from the competitors. Many companies rebrand their logos by simplifying their design or by adding elements that make their logo timeless and memorable. For example, Starbucks' logo is synonymous with coffee culture these days. Its roots being from Seattle, the company began with a prominent image of a Siren from a 16th-century Norse woodcut. Later, the band changed its style to a more memorable green color as it began selling properly brewed coffee. Further, they removed its side labels and opted for the company's seal, and also simplified its Siren's image. Most importantly, the company removed all extraneous text and became firmly associated with coffee: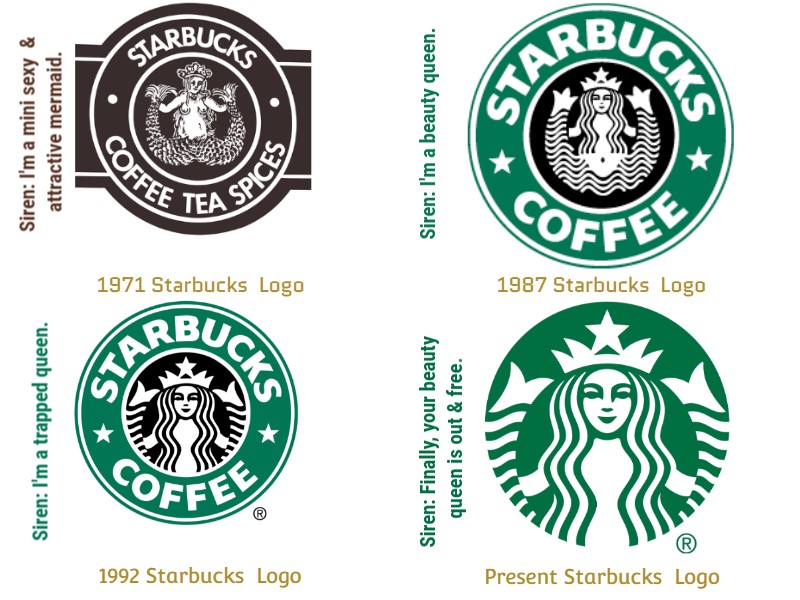 Though later they changed it slightly to a more vibrant color in the 1990s, it is the current logo, unveiled on the company's 40th anniversary year (2011), which has marked the evolution of the brand.
As mentioned before, the brand launched itself with a combination of the mark, a mix of both text and icon. The company's decision to remove its text like the brand Apple did. The moment in which the company's creators realized that the brand's image was powerful enough to not require a word for it to be recognized. They removed the words and extra elements from the logo design.
Another great example of a timeless logo design is Apple. Their first logo had Issac Newton with an Apple about to fall on his head. The brand's logo has evolved since then, considering the high paced nature of the technology industry and its image for innovation. Earlier there were rainbow-colored bars, followed by the translucent version, monochrome version, the aqua theme, the glass effect, and the monochrome version again.
Apple's current logo design reflects simplicity. The logo consisting of flat colors and curve is a representation of style and sophistication. It gives a perfect high-tech feel that a customer would expect from a technology company. Some people believe that the "bite" out of the apple is a pun on the byte.
Best online logo design services and their professionals too can come up with a logo that matches the personality of the brand the way Apple's logo did. Its logo signifies how the brand's products are: sleek, innovative, and intelligent. Therefore, brands can ask custom logo design company to keep their logo minimal and simple, which will not only remains in the minds of customers for a long, and gets universally recognized. Keeping a pictorial logo will allow the brand to have a meaning imprinted in the minds of the customers, which they can relate the brand with.
DEFINING TIMELESS LOGOS
From the examples given above there are a few obvious similarities that have to make sure that the timelessness of a logo design is recognized by the public:
Simple shape
No overly complicated graphical elements
No gradients
Limited colors
The versatility
BASIC STEPS FOR DESIGNING A CLASSIC TIMELESS LOGO
Best online logo design services and custom logo design companies have professionals who are skilled and have enough knowledge about the process of creating a timeless logo design. Since the brand identity and marketing is one of the essential components of the brand, companies should avail of affordable logo design packages and should get their designs made by professionals. Here are the basic steps that professionals at the custom logo design company follow:
Research the market, target customer, and company
Look at present logo features and future possibilities
Sketch out ideas
Look to create each part of the logo as stand-alone
Once they created a classic logo that is stand alone, over time it will get stripped down into its simplest form but you- as a brand owner will have a timeless logo.
The elements mentioned above are significant in defining a successful logo that can be timeless. The companies that have hired custom logo design companies did it well and also have managed to condense their image into one defining symbol that speaks out to the larger public.
Here are 13 actionable tips to make your logo design timeless.
Opt for simplicity over intricacy
Logo design isn't something where people can add random details or the things they like to make it looks pretty. A brand needs to keep and communicate the core brand values to the professionals of a custom logo design company, only then they will know what to keep and what to skip.
It might be hard and challenging to resist the fascination of adding intricate details. However, it's essential to not include anything unnecessary in the design. Keep it clean, crisp, and captivating. Needless to say, the more complex the design, the faster it will get old. Understand that simple is the new smart. According to the K.I.S.S ( Keep it simple stupid) design principle, only a simple and straightforward logo can make the brand image to stand out from the crowd.
Take a look at Apple's logo history. Their first-ever design was filled with irrelevant details; within a year they changed their logo and got their iconic logo which people around the world recognize and is still considered one of the most timeless logos of all time.
The Brand
Make sure that you, yourself understand and communicate the details about the brand to the custom logo design company thoroughly. When the best online logo design services have some insight into their client's brand. They are able to create that is not only classic and timeless but also reflects the brand's core values. Another benefit of hiring a custom logo design company is that If the design brief provided by the business owner is not sufficient, they research the business. They ask the client the right questions that help them get the answer regarding the nature of the business, products, or services. This helps them to create a timeless logo design.
Versatility is key
If you think you're all set to launch the logo, take a pause and re-evaluate the design to ensure it's capable of looking good across all the channels in which it will appear, this includes branding collaterals, billboards, and social networks, not just on the website and/or storefront. A timeless logo design is versatile. They look classy, innovative, and visually appealing irrespective of their size, whether it's blown up on a huge billboard or appearing tiny on a letterhead. A timeless logo design looks impeccable no matter where it's going to be placed.
Keep the colors limited
Colors appeal to the human senses. Does everyone love color? YES, However, when it comes to logo design, this task is a bit more sensitive. One can't simply merge random colors because they like them. The colors required to create a timeless logo design are limited to two or three. There's a comprehensive science behind the color selection. As the color palette is one of the most critical considerations for the logo design process, it's always suggested that the brand should stick to a small palette or max three colors that perfectly suits the brand image. It's also important to have knowledge about color psychology so that the brand understands the meaning that will be expressed and communicated to its target audience.
Remember, colors can make or break the brand message, so be careful when picking your palette. Take the McDonald's logo as an example; you can tell just by looking at the corner of the billboard that it belongs to the renowned fast-food brand. And this is because of their eye-catching yet straightforward color scheme.
 Don't stuff fonts into the design
Similar to colors and other logo design elements, font selection is another aspect to consider before the brand begins with its logo design process. Each typeface has a different mood and nature; thus they express a completely different and unique meaning. A brand, therefore, need to be careful about the nature of typeface before adding it into their design. Make sure that it goes perfectly well with the theme and colors. This is a crucial part, therefore, brands should hire the best online logo design services. Their professionals have the knowledge to create a logo that not only communicates the brand's value but is also a memorable logo design.
Custom logo design companies do not use multiple fonts that belong to a different family. They understand that it will hurt the message it's supposed to deliver. Custom logo design companies focus more on typographic creativity and avoid unnecessary effects like bold and semi-bold as they can affect the personality of the typeface.
They believe in keeping the logo classy with crisp and relevant fonts. Plus, focus more on the symmetry and proportion of logos. They add an aesthetic appeal to the company designs. Custom logo design company understands that customers as well as the brand enjoy the experience of the logos that are created with well-balanced and consistent arcs bring.
Make it social media friendly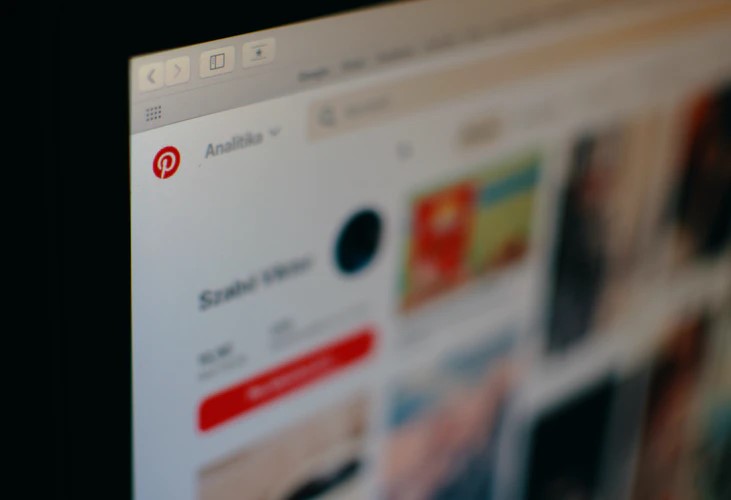 If you really want your logo to be effective and timeless, a brand needs to keep it as social media friendly as possible. In today's era when all brands have cut-throat competition on social media, there's an equal chance for brands big or small to attract a fair share of the audience. A logo design that is flexible and adjustable for social media is timeless.
Do not follow the trends
Please leave trends in the fashion industry. Trends come and fade away. Talking about replacing a pair of jeans or buying a new dress, that's fine, but where the brand identity is concerned, longevity is key. Don't follow the crowd, instead, stand out. The most impressive and powerful logo is not based on the current trends in the market. These are timeless pieces of work. The professionals working in custom logo design companies, thanks to their experience in design, can predict whether the logo will still be valid in 10, 20, or 50 years.
For example, the timeless BMW's logo, was designed in 1916 and has changed very little ever since. The style keeps being remodeled according to the era but the concept is timeless and remains the same.
Do not use ready-made graphics
Under no circumstances, create a logo with ready-made items (stock graphics, clipart, pre-made designs). Creating your logo from ready-made templates and pictures makes the logo non-unique and replicable. Moreover, a part of the logo may be legally used in your competitors' graphics.
Therefore, it is beneficial to hire a custom logo design company to design a timeless logo. The professionals working there bring new and fresh ideas to the table. They design the logo from the scratch making it unique, powerful, and timeless.
The logo must tell a story
This is where creativity comes into play. Take any successful and timeless logo, they all have one thing in common. Their logos go beyond outlook. They tell a story in one way or the other. So, needless to say, a brand should not think twice before following the suit. It should be designed with lines in a pattern or set colors in such a well-organized way that they can convey a more profound meaning without depressing the outer appearance of the logo.
Inimitable Logo Design
Though much is said about the uniqueness of logos, it is often ignored by designers and design seekers. It is important to ensure that your logo is a unique design and not plagiarized. The brand requires a logo design that cannot be simulated or imitated. Striving for a unique logo can help designers craft a design that emits the brand entity and equity of a company. In addition, an inimitable logo design can help the consumers differentiate your brand from others.
Vectorize
It is important to use a vector style while designing a logo as the most and best online logo design service company does. It's the best way to acquire a clean, effective, and neat logo design. The good news is that a properly drawn vector design will offer the brand a bit more flexibility. Vector-based graphics work well for designs. Moreover, With a vectorized form, it becomes quite easy to modify the changes needed before finalizing the heading with it.
Branding
The logo plays an imperative role in branding the product in the market. Ask a custom logo design company and they will explain the importance of a logo in branding. Right from scratch to finish, it is used in every point and corner of branding. In fact, custom logo design companies have seen a drastic change in the demand for logos.
With the right logo design, even your marketing strategy would be influential multiple times. It is tricky to create a timeless logo design but it won't be a problem if you grab the affordable logo design packages for the brand from a custom logo design service company.
Surprising
Logos with surprise and hidden meaning are not just timeless but they are memorable as well. For example, the hidden arrow in the FedEx logo. Such logos have an "AHA" moment and further, it makes a logo super interesting.
Over to you
Crafting a timeless logo is not an overnight task. Everything needs to be done carefully, for which one has to go through intense brainstorming and rigorous research. Remember that the logo you are getting designed is meant to be targeted towards an audience, therefore, keep their preferences and perceptions in mind and come up with a logo that is simple, minimal, adjustable, and unique.