Laura Flair
12th August 2020
Making design choices for your newly launched sites can undoubtedly be a daunting and tedious process, especially when the internet today is full of inspiring and iconic web designs.
Not to mention website design is a lot more than merely trying to make it appealing to the eyes; however, there are times when you come across sites that make you scroll up and down and think. While there are sites that tend to just go for a functional web layout design, sticking to the branding of the organization for the images and color schemes, but there are a few that push the boundaries and stand apart in the competitive crowd out there.
To help you find creative web design ideas, we have collected some of the best sites designed by professional website designers who really know how to keep it subtle, minimal, and clean, yet engaging.
Top 30 Innovative Website Designs to Look at in 2020
Whether you are a professional website designer, or just starting out, here are 30 sources you definitely can take inspiration from:
1)    Morgan Stanley
Morgan Stanley, unlike the conventional product-focused sites, headlines its homepage with an article they believe in driving a significant amount of traffic to. The rest of the layout plays with a grid-based arrangement to establish the assortment of the recent articles posted.
2)    Hachem
If you are fond of beautiful bright colors, then Hachem is undoubtedly the best web design out there to take inspiration from. The hot pink font goes perfectly with the black and white background. The site is all about user-friendliness combined with creativity.
3)    Virgin America
Who has not as yet heard of Virgin America when it comes to pushing usability, responsive design, and accessibility? It has also been named as the first truly responsive airline website, a new standard in the industry.
4)    Beagle
Beagle is another website that has done an outstanding job of coming up with a creative design layout. It is one of the few sites to have used the "scroll hijacking" in a bright way. Apart from that, they know how to introduce their products without killing the essence of web design.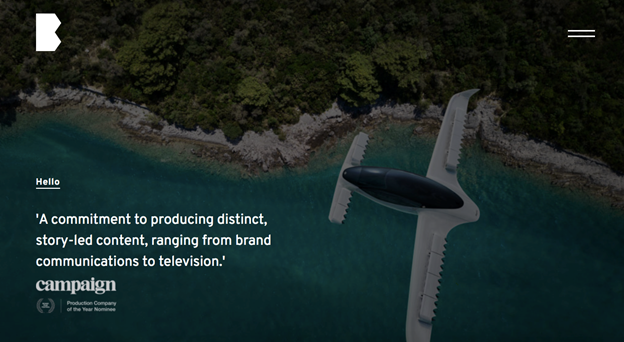 5)    Studio Revele
When it comes to experimenting with broken grids and asymmetrical layouts, the professional website designers at Studio Revele certainly should get all the appreciation and praise. The circles on the homepage can be moved around the screen to help facilitate the concept more.
6)    Indigo Logo Design
Indigo Logo Design is a US-based logo and web design agency that is known for creating an amazing juxtaposition between then and now site design. The website features a retro color scheme reminiscent of the funky and bright colors with a slight dark background.
7)    Poulos Collective
This creative web design agency offers a minimalistic, clean, and functional experience. The color palette used by Poulos Collective is pleasant, and the text is easy to read and comprehend. This web design layout proves how important is t to keep the design and content of the site simple and clutter-free.
8)    Feed
Feed is not just an interesting concept to learn about originality and vision, but this website also has a great execution to challenge the understanding of what is possible on the web. Whether you are to take inspiration for usability elements, or navigation doubling as a scroll progress bar, Feed has everything out there for you.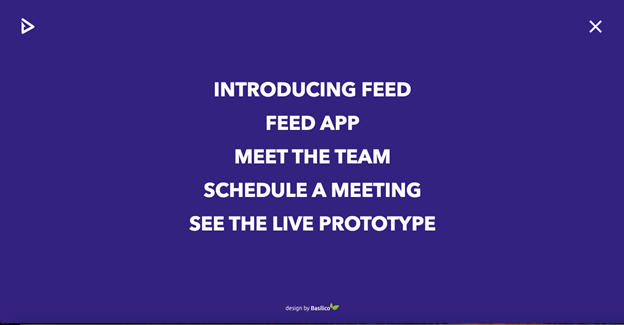 9)    Dan Perrera
If you are fond of writing blog posts and are looking for inspiration to launch your website, this has to be the perfect website to look at. The homepage of Dan Perrera consists of a clean and easy feed of timestamped blog posts with a tacky navigation bar.
10)    Heco Partners
The web design and layout of Heco Partners is a full bleed hero flowing into staggered two-column portions, while the scroll-triggering background animations catch the viewer's attention in seconds. The best part about this site is that it is entirely built in Webflow. How dynamic and lively!
11)    ARCHE68
The website design of ARCHE68 is all about pushing the typography to a two-dimensional limit, making it near three-dimensional. Not only is the typography something to look at for inspiration, but also has it auto-scrolls lefts and right while moves with user scroll up and down. Pretty simple to use, right? And, the electric color blue is just beyond classy.
12)    San Francisco Museum of Modern Art
When it comes to bringing intuitive navigation, strong composition, and eye-catchy fonts all together, then this website clearly is a reflection of all that. What a masterpiece of usability and artistry!
13)    ETQ
The web design layout of this website takes a minimalistic approach to eccomerce with the compelling, big visuals of their products. The flat and simple color-based background is accompanied by strong typography to help the buyer find what he/she came for.
14)    Nelu Cebotari's portfolio
Nelu Cebotari's portfolio contains a three-column hero that transmutes into the main navigation menu on the scroll. They have used just the right shades of yellow for the background, which is making the black text stand out from a distance. The navigation design is another inspiration to look at. It is placed front and center as the calls to action, work, about and contact.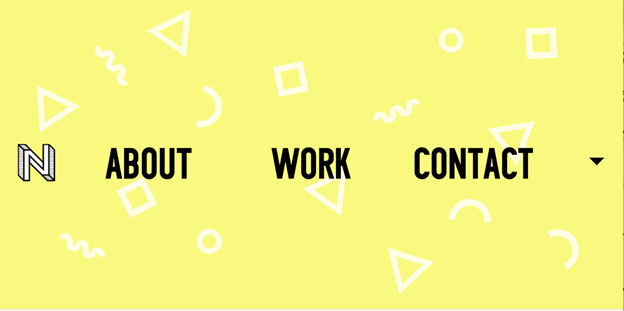 15)    Boosted
This American website has taken skateboarding to the next level by choosing amazingly detailed pictures of its products along with descriptions on the homepage—the orange-colored call-to-action pop up in the white and gray-toned background.
16)    R2D3
This website utilizes the power of the web to educate masses about machine learning. R2D3 consists of a two-column Z-pattern layout with a plethora of animated graphs, making the overall look of the site appealing and tempting.
17)    Mikiya Kobayashi
Kobayashi is a Product Designer showcasing his work through subtle animations and beautiful photographs. His website was initially created in Japanese but later translated into English. Language is another important feature of a website when it comes to the site's visibility, and Mikiya surely taught us that.
18)    Hers
This website as overlapping elements in parts of their site, including the main hero area on the homepage. The white background is certainly making the black text look prominent while the products are showcased in subtle nude colors, giving an overall soothing vibe.
19)    Daniel Boddam
The website design of Daniel Boddam consists of a lot of extra white space in the heading area, which is strikingly bringing attention to space otherwise often filled with content. It is really important to keep a balance between content and white space as too much clutter can confuse the viewers.
20)    Gander
This ecommerce web design contains large navigation in all four corners of the website instead of a traditional navigation bar across the top or along the sides. With experimental navigations becoming more of a design trend in 2020, we sure can expect huge navigations with sophisticated animations to balance it out.
21)    Dribble
This is a community of creative web designers that grow their expertise and skills together through their website. The primary color used for the homepage is white, while the navigation is kept black. It has been a design inspiration for designers around the world for quite some time now.
22)    Travelshift
No website does better than Travelshift when it comes to reinventing navigation while maintaining exceptional usability. This website design is a combination of clean and easy navigation interaction with alluring animated transitions.
23)    Behance
This site is another inspirational design website for all the UI designers out there. The navigation, layout, and color palette are all you need for a design website in 2020. They also have perfectly balanced industrial design, photography, illustration, and fashion.
24)    Woven Magazine
Woven Magazine is an online publication that tends to celebrate artists, makers, and craftsmen. The site is engaging with easy-to-read content and free of pop-ups and obtrusive ads. Do check their website out for more!
25)    Flickr
Flicker is another name that we come across quite often, be it for a wide array of images or high-quality videos. From the navigation and layout in general to the color scheme of the website, you can pretty much find everything and anything under the sun.
26)    SiteInspire
sites Inspire is run by Daniel Howells of Howells Studio. The website boasts a whole library of inspirational websites to filter with an extensive tagging system. It has style-based navigation with amazing colors and typography. If you are having a hard time finding the "unusual navigation" for inspiration, check this site out!
27)    Lapa
Lapa is considered to be the best landing page design inspiration as the headline reads on the homepage. Not only is it something to look up to for design inspiration, but also can you educate yourself on a variety of design topics from illustrations to UX design in detail.
28)    Rainforest Guardians
It was known to be the most immersive nonprofit website of 2016. The one thing that sets rainforest Guardians apart from the rest is its user experience. It is always best to put interactivity at the center of user experience, and this site has beautifully done that.
29)    Citrix: The New Mobile Workforce
The website is all about clever and eye-catchy animations to explain complicated automotive technology. It is easy to open and process on the web and with your smartphone.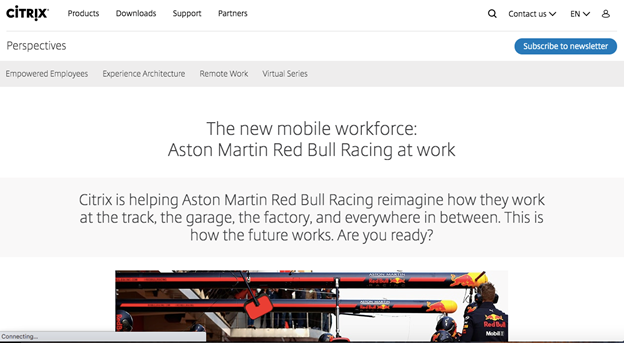 30)    The Great Discontent
It is believed that inspiration does not always come from a visual source; there sure is more to it. Sometimes, you might come across a motivational story that pushes you to go further and design your way into a new avenue. The Great Discontent teaches us sharing successful design stories on design sites is all you need to take inspiration from.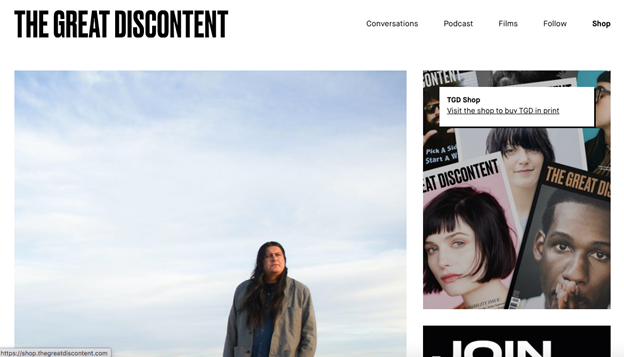 Which one was your favorite?
Creating a website can be exciting yet tedious and daunting. Hopefully, you have enough inspiration and ideas from the above-mentioned websites to tackle your next website design. Let us know which one is your favorite in the comments section below, as we love your feedback!